We have covered the CPU and the graphics setup, but what else needs to go into a trading computers build?
Hard Drive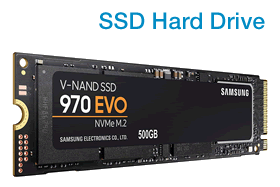 A hard drive is where Windows and your trading software is installed, it will also hold any data files you create or use.
There are two main types of hard drive, the traditional 'platter' style drives which have moving parts in them, and newer solid state hard drives (SSD's).
Solid state drives have no moving parts and are much quicker, meaning your computer will power on quicker and programs will open instantly.
For trading computers a standard solid state drive is required. You can get faster SSD's however they make no difference to how fast your trading software will run at all, absolutely zero impact, so if you are on a budget don't waste your money here, get a normal SSD and know that is all you need.
RAM / Memory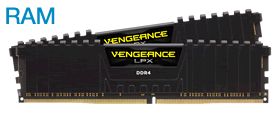 RAM in a computer is temporary storage that holds your open programs and files.
When you open a chart or spreadsheet it is transferred into your RAM and used from there.
When RAM gets full then your trading computers performance will slow down, a lot!
So how much RAM do you need in your trading PC? It depends on how many platforms, charts and files you want to open and run at the same time.
For MT4 with 4 - 6 charts, 8GB of RAM is enough.
Platforms like NinjaTrader and TradeStation will use more RAM so 16GB - 32GB is recommended for these.
If you use primarily use web platforms like IG, Pro-Realtime, or Trading View then it comes down to how many browser tabs you tend to open, web browsers can be hungry for RAM.
8GB will cover around 4 - 6 tabs, any more than this then we would recommend going with 16GB - 32GB. We have some customers who open 40+ browser tabs, for them 32GB of RAM was needed to ensure everything still ran smoothly.
In terms of RAM speed, we have never conclusively seen evidence that faster RAM makes any real world impact on trading software workload performance, so don't worry about it.
The Other Stuff
A decent case helps with cooling, which is important for a stable trading computer.
For power a 600W rated supply is usually more than enough, higher powered supplies do not make any difference to your computers performance. Only higher powered (and pointless for traders) gaming graphics cards require more power.
Finally, if you want to use a wireless Internet connection and have a fibre optic line then go for a faster Wireless AC network card, for standard broadband speeds a Wireless N card is fast enough.
Let's put this all into practice and decide what you need based on what type of trading you do.
Forex, Day Trading, MT4 & General Charting
If your trading relies on having fast access to market data then you want to be looking for a fast CPU, single thread speed is key.
Budget friendly but still highly responsive, our Trader PC (see below) configured with an Intel 12th generation i3 or i5 will more than do the job for you.
For these workloads they will outperform computers offered by some other companies priced at 2 - 3 times the price!
If only the best is good enough then look at our Trader Pro PC (see below) with either the Intel 12th generation, or any of the AMD CPU options, there is nothing faster on the market right now.
TradeStation, NinjaTrader, Backtesting, EA's / Indicators, Multiple Platforms
If you run a few platforms at once, make use of a lot of Expert Advisors / Indicators, or do some backtesting analysis then our Trader PC is still highly capable, upgrades to the CPU & RAM or going for the Trader Pro PC is going to help with that workload better.
The i5 / i7 options are better suited to multi-tasking than the i3's in the Trader PC, going with 16GB or higher on the RAM will definitely help performance levels.
BloomBerg, X Trader, Lots of Charts, More Intensive Spreadsheets, Heavy Backtesting Loads
Here you want a fast single thread speed and high core count CPU, so going for the Intel 12th gen i5's and above is a good option in the Trader Pro PC. The higher end AMD options are also worth looking at for power users.
In terms of RAM we would generally recommend pairing these processors with 32GB or more of RAM to ensure you don't run into a bottleneck here.
As mentioned above, when running some of the more intensive platforms across lots of screens with an ultra high number of charts per screen then you may want to stick with the more powerful 4GB graphics card options.