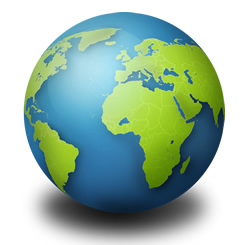 We are based in the UK but we have been supplying our multiple monitor arrays and computer systems to international customers for many years now.
This page contains details on various aspects of our international service.
Delivery Areas & Shipping Costs
Whilst we can ship any of our products to virtually any country, our main areas of operation are in Europe.
You can see shipping costs and timescales on any of our product pages, simply click on the 'View Costs / Timescales' link in the 'Delivery Details' of any product then select your country from the list.
If your country is not listed then simply contact us for a shipping quote.
Shipping costs depend on the size and weight of the puchased items.
All international deliveries are fully insured and sent with trackable courier services.
Extra Shipping Information Required
Since the UK left the EU the shipping rules and requirements have changed and there are slightly different rules depending on whether you are purchasing as a business or as a private individual.
Businesses should supply us with both a VAT number and an EORI number, these are required by customs in your country to clear the parcels for import and to send out duty payment invoices (see below).
If you are not registered for VAT in your country and / or do not have an EORI number then we would advise you to make the purchase as a private individual.
For sales to private individuals outside of the UK we require a PID or personal identification number if you have one. Again this is information required by your customs office so they can contact you for payment of any import taxes (see below).
We also need an email address and telephone number which should be a mobile phone number if possible. These are used by the couriers to supply tracking information and updates and also by customs to contact you for any import duties (see below).
Taxes for International Sales
If you are purchasing as a non UK based business or private individual and we are shipping outside of the UK then we do not apply the UK VAT charge, you will pay us the UK non VAT price and then the shipping fee.
When the order is shipped it will need to clear customs in your country, this process is handled automatically by our couriers DPD, at which point they will contact you with an invoice for the import duty which should be the equivalent of your countries standard rate of VAT. If you are unsure what this is please contact your own countries customs office for clarification.
In terms of tariffs, we are not aware of any tariffs being applied to our products in the EU. Other countries may have tariff charges, you should check with your customs office for more information on this.
We have no control over import duties or tariffs and any fees required by your customs office to enable the goods to clear into your country are fully your responsibility to pay.
VAT registered businesses should be able to claim this import duty back through your normal accounting procedures however you should check with your accountant / local customs office regarding this.
Failure to pay the import duty will see your order returned to us, at this point we will issue a refund for the order amount minus any shipping charges we have incurred.
International Payments
For international orders we can accept debit or credit card payments through the website or BACs / Wire Transfers.
For card payment we can only accept cards in the '3D Secure' scheme (VISA / MasterCard), if you wish to pay by Wire Transfer you should 'checkout' on this site as normal and select BACS / Wire Transfer as the payment option, we will then email you our bank details.
All payments must have cleared into our bank before dispatch of any goods.
International Warranties
Computers:
We rigorously test all computers before dispatch, you can read more about our testing process here: Testing, Testing, Testing - Despite this very occasionally a component may fail and require replacement / repair.
For international orders our computers come with a 3 year return to base warranty. This supersedes any warranty package advertised on this website for UK based customers.
In the event of a hardware failure you can choose to return the machine to us for repair, all parts and labour charges are covered by this for the first year, the second and third years cover is labour only.
Unfortunately since Brexit moving goods between the UK and EU has become slow and expensive. Any courier costs and import fees we are charged to return the PC to the UK and then ship it back to you after repair would be your responsibility to cover.
Due to this we strongly advise customers outside of the UK to consider using local IT support where possible in the event of a fault developing.
All internal computer components are brand new and come with manufacturer warranties of their own, these are usually between 3 and 5 years long. If a specific component fails you may be able to claim directly with the component manufacturer yourself which could be faster / cheaper than returning the full machine to us. Likewise, arranging local IT support to help with any issues will usually be cheaper and will definitely be faster when taking component warranties into account.
None of the supplied internal computer components are unique to Multiple Monitors and it should be straightforward for any competent IT technician to service and maintain our computer equipment.
We are more than happy to assist you remotely in any way we can in this area.
Any non-hardware support is provided via telephone, email and remote access as normal, this support is only available in English.
Monitors:
All monitors and stands are covered for 3 years by manufacturer warranties.
Monitor warranties can be claimed on through the manufacturers websites, documentation for the monitors is sent with the monitors and / or is available on the specific monitor manufacturers website, we are happy to assist where we can with this process.
Stands:
As the Synergy Stand is our own product in the event of a fault we will replace any components required at our expense.
International Returns
In the event that you wish to return any products ordered for a refund then this works exactly the same as our standard UK returns policy. The only difference being that you will be responsible for shipping costs to return the products to the UK, these costs would include any fees we are charged to re-import the items back into the UK..
View our returns policy.