Do any of these sound familiar?
"I spend ages doing research, watching a market and then when I need to quickly get into or out of a deal I click to launch a ticket and nothing happens, it sometimes takes 20 seconds or more to appear by which time the price has changed and I've missed the opportunity"
"My current setup is an old PC, a laptop with a second screen and an iPad, it's a real mish mash and difficult to work with"
"I'm missing out on trades because I can't see all the charts I want to look at on my laptop"
"My charts lag and I'm not confident that the data I'm seeing is fully up to date with the markets I'm tracking"
These are all direct quotes taken from emails I've received over the years.
Many home or part time traders start out on a laptop, or the family PC, and this works fine, up to a point.
Standard computers and laptops have just one screen, whilst this is enough to play games, write emails, or do your online shopping, if you want to track multiple indexes or timeframes, one screen can quickly start being restrictive.
It leads to a situation whereby you have a few different charts open but due to the lack of space, you lay them on top of each other, meaning that you can only see a few charts at the same time.
Trading like this is always going to end up at the same point, something will happen, and you will miss it, because the information you need is hidden behind something else.
If your trading strategy requires you to monitor more than 1 or 2 charts then having more than one screen to lay out your charts can become a necessity not a 'nice to have'.
The other major issue with trading from a laptop or an older computer often comes down to speed.
How sure are you that the data you are seeing is 'real-time'?
Laggy charts is a problem because you're always a step behind the market.
If your currency takes a nosedive you need to be able to see it and react to it as its happening, not 5 or 10 seconds after its started dropping.
Charts that are running on a slight delay is bad enough, having to wait even a few seconds to open a ticket just compounds the issue even more.
"I Need Speed, entering and getting out of a trade at the split of a second can make a difference between a Profit and a Loss"
When you need to open or close a position you need your equipment to allow you to do this without delay.
I've lost count of the number of conversations I've had with traders who tell me that when they open a ticket they can be sat for 5, 10, 15, even 30 seconds before the ticket opens fully.
The frustration that situation must cause is immense.
You're either missing out on a profitable trade, or worse, you're actively losing money whilst you sit and watch the market change on you, unable to do anything about it until your computer decides it's ready to open the ticket…
It shouldn't be like this.
Making money from trading can be difficult enough.
Losing money or missing opportunities because your computer equipment can't cope, or it's not showing you everything you need to make a good decision is a headache that you just don't need.
I'm guessing that you are here because you have decided it might just be time to look at improving your computer setup.
Whether you are looking to move on from the slow laptop, are looking to get a system that can run more screens, or you're just starting out on your trading journey and want to purchase a setup that will let you get going.
You have a problem that you are looking to get solved.
The first step for most is Google, and this is where the nightmare of computer processors and graphics cards, and multiple differing opinions begins.
The Truth About Most Online Computer Retailers
Many online computer retailers now offer 'trading computers' for sale however if you actually look at most of those companies you will find that they are simply computer sellers that offer computers for every type of sector that they can think of.
When it comes to traders they generally stick a graphics card in a PC so that it can run 4 or more monitors and then call it a trading computer.
Never having spoken to a trader, run any trading software, or tested any of their graphic card setups in a live trading environment, they are now suppliers of 'high performance trading computers, designed and built for traders'.
There's one fairly large online retailer who has recently started offering Trading Computers, they insist on building them with a graphics card which costs 12 times more than one of the graphics cards we use.
Guess what, the card they recommend as being essential offers the exact same performance as the 12 times cheaper one when it comes to actually running trading software.
We know this because we have benchmarked a range of processors and graphics cards to analyse their performance when running trading type software. We publish these results online at one of our sister websites, TraderSpec.com.
Here is an example of a graphics card test where we put a card we used at the time of the test, the GT 1030, against a card used by a competitor, the NVS 510 (a much larger test is available on TraderSpec.com with more cards tested across a wide range of simulations).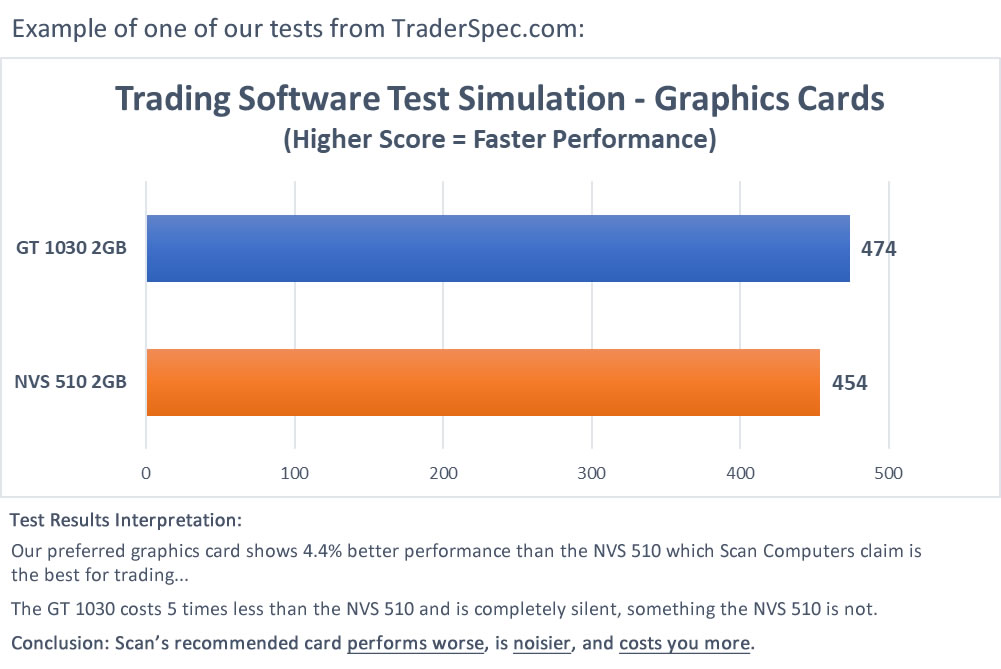 As the results highlight, our preferred GT 1030 is unquestionably the better choice of the two options displayed.
Reading their website and marketing materials you'd think that their machines were the best for trading, the truth is that all you are reading is marketing speak, they've not tested their systems properly, and because of this you'll end up paying more for a worse solution.
I have singled out just one of the competition but the same holds true for most of them, they do not specialise so they don't know the exact requirements of trading software workloads.
All they have done is thought, 'what other types of computers could we sell?', they search around and come up with some ideas, trading computers, CAD computers, photo editing computers, etc…
They then put together a page on their website claiming to be experts at each of those areas, throw in a few technical terms such as 'high frequency trading' or 'forex trading computer' and then start marketing themselves as specialists.
Due to this lack of expertise they either guess at the requirements or, something we have caught at least four different companies doing, copy our machines specifications.
I'm not saying the PC's they build are no good, I'm simply saying that you probably won't get something that is specifically designed and optimised for the task of trading.
There will be no added software that specifically helps you set up your trading software and charts, and if you do have a problem they will have no real knowledge of any specific trading platforms so will not be able to provide any in-depth level of support.
Occasionally a competitor might sell a computer that on the face of it looks like a similar spec to one of ours at a slightly lower price, if you dig down into it though many of the things they charge extra for are included with our computers.
I've seen things like 'Windows Optimisation' charged as an extra at £40, we do that for free. How about 'silenced cooling fans' charged at £30 - £50, again we do that for no extra cost.
Want your new machine built in just 4 – 5 working days? Something we do as standard and don't charge you for is an extra £70 at one online retailer and a massive £300 at another! Pretty unbelievable I know but completely true!
The main point is that aside from one or two US based companies, nobody else in the UK specialises in trading computers, despite what they may claim, they list them along with every other type of computer they can think of in an effort to add some extra sales to their bottom line.
Professional Traders Selling Computers
Whilst searching online you may also find the professional and highly successful traders who, for some reason, are selling computers over the internet.
I've got to be honest here, this always makes me smile when I see this. If they are successful traders why would they feel the need to enter the crowded, and very low margin world of selling computer equipment online?
That's always my first thought.
Have they got enough time in their day (and the technical knowledge) to offer support to their customers alongside trading?
Are they going to be able to help you on a Sunday morning when a Windows update breaks your computer?
Are they going to know that the reason your screens have gone black is because of a faulty graphics driver???
Builders often use vans but you wouldn't think to buy a new van from a builder, you'd go to a van dealer who could offer you a range of vans and had servicing and warranty packages for them.
Traders obviously spend a lot of time using their computers but that doesn't necessarily mean that they are the best people to sell and support them.
Online Forums - Who Is Actually Giving You That Advice?
As a trader you might be a member of or have browsed through some of the online trading message boards and forums, these are places where traders can get together online and discuss trading strategies or anything else trading related.
I know these can be valuable resources for traders, I've heard many good comments from our customers about some of them.
I have also seen many wildly uninformed comments at times when it comes to talking about computers.
The problem is that with google and the fact that nothing on the Internet is ever deleted, some of these plainly wrong opinions can find their way in front of people who are not in a position to know whether the advice is right or wrong.
Take this for example: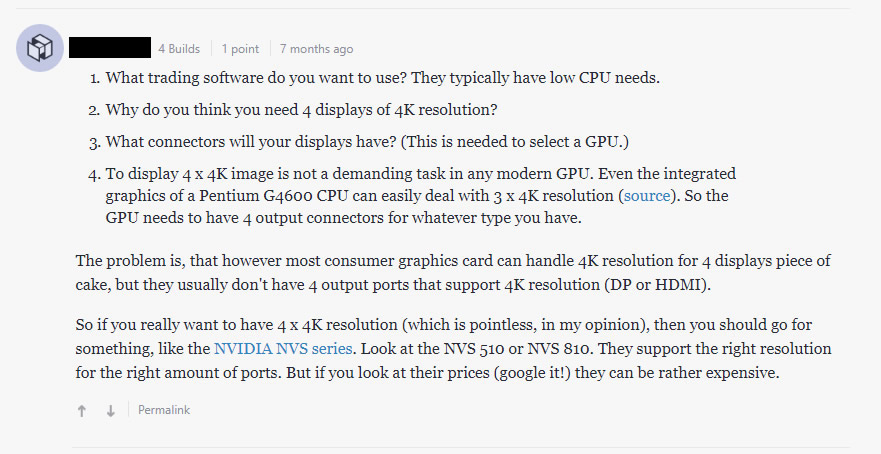 It's a response to a post whereby someone is asking advice on a computer build for a new trading system they are looking to put together themselves.
This answer is just plain wrong.
The guy answering has obviously never attempted to run four 4K resolutions screens, because if they had then they would know that this is actually a really difficult thing for a graphics card to do.
Contrary to what they claim, most consumer graphics cards would never be able to handle this.
The NVS 510 he recommends struggles to run two of them, I know because I've tried it, I'd bet a lot of money that he hasn't…
Not all advice in forums like this is bad, but the point is that it might be, and you have no way of knowing.
You've got to ask yourself, who is giving me this advice and is it trustworthy?
Even if advice is given with the best of intentions, just because someone trades successfully on a particular computer setup doesn't necessarily mean that what they have is the best in terms of performance or value.
The likelihood is that they've never actually tried anything different.
It's like me saying that because I take the kids to school in an Audi Q5 then that's what you should buy to take your kids to school.
Yes you could do that, but there's a whole range of other options out there which might be more suitable for you, all with different price tags.
Save Money, Build Your Own Computer, The Trading PC Market is a Scam!
I've also seen more than a few messages over the years similar to this.
The honest response to this is that there is some truth in what they say.
There are companies who slap a trading computer label on a system and then attempt to sell it at an inflated price.
Buying the components and building a system yourself is also likely to save you a little bit of money over paying for a pre-built computer.
It comes down to how much you value your time.
Let's say you decide to build your own system, its likely that you will spend a number of hours researching the right parts, let's conservatively say this will take 4 hours.
Then you've got the physical assembly of the system, again, let us conservatively estimate this at 2 - 3 hours.
Now you have the operating system installation and configuration, another couple of hours work.
If everything goes perfectly well with no problems then your 8 – 9 hours work will probably save you somewhere in the order of £200 off the cost of a pre-built system. Maybe more, maybe less, but that's the ballpark we are talking about.
8 hours for £200 works out to be £25 per hour, could your time be better spent?
Now let's assume you build the system, power it on and it doesn't work. You've immediately added on at least another 2 - 3 hours work trying to figure out the problem.
If you have a faulty component then there is more time wasted returning it and waiting for a replacement. Maybe you have to spend extra time researching the fault, you could easily end up doubling the amount of time required to put your build together, not to mention the stress of it all.
You're now working for around £10 - £12 per hour.
Eventually you get finished, the system is up and running and you are happily trading away, life is good.
Then one morning you power on and all your screens are blank. Who are you going to turn to for advice?
How many hours or days of trading are you going to lose because you have a machine with no support, nobody to turn to for help, and no idea whether your problem is down to the hardware or software.
It's a bad situation to put yourself into.
Sure, you need to be careful that you don't pay over the odds for a new computer, but you also need to factor in the cost of your time and effort, and then the potential cost of down time and support issues.
In an Ideal World...
Like I mentioned at the start, researching and purchasing a new computer for trading can be a real nightmare, but what if it wasn't...
Imagine if you found somewhere that specialised in working with traders like you, understood your needs and requirements, and could recommend some suitable options tailored just to fit your trading needs.
Somewhere you weren't bombarded with hundreds of different component choices, a place that you're not expected to know the difference between different RAM speeds or motherboards.
You'd be able to see the computers online, have the options explained in plain English, so that you can understand (and not guess) at how they would impact your trading workflow on a day to day basis.
If you need screens or a multi-screen stand you know that these were available, in-stock and are 100% compatible with your new computer.
A few days after making your choice your new system arrives, everything you need to get up and running in one easy and convenient delivery.
Connecting your screens is simple, all the cables you need are provided along with a guide to getting you up and running.
Powering on your PC, it boots up straight into Windows, which is fully updated with all the latest security updates and patches, and is ready to use straight out of the box.
You jump straight on to the Internet via the inbuilt wifi card and are accessing your trading platform within a few minutes of switching on the computer.
You open a chart and move it easily to one of the extra screens, a second chart is opened and placed somewhere else, within a few minutes you're seeing everything you need to see, all at the same time, ensuring you never miss an opportunity again.
The silent working environment offered by your new computer allows you the peace you need to contemplate your strategy and achieve your goals, that is until a breaking news report on interest rates sends the markets into a frenzy.
But your computer doesn't flinch.
Charts keep updating smoothly, your mouse continues to track across them normally, and when you decide to make your move, your ticket opens instantly ready for your input.
Doesn't that sound great? Like a dream almost.