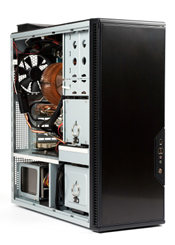 At Multiple Monitors we work closely with our customers to ensure that our products are as good as they possibly can be.
We don't have warehouses full of pre-built computers ready to ship out instantly, what we do have is a large supply of top quality components which we put together specifically for your order.
This allows us the advantage of easily customising any of our products to meet with your every needs, we even go so far as to install your preferred operating system with your name (and / or company name) pre-setup so that you can simply switch on your new PC and begin working instantly.
Choosing to work in this way would normally increase the lead time of a new computer substantially, however due to our specialised technicians and commitment to you, we can often turnaround a new PC and monitor system in just 4 - 5 working day ensuring that you are not waiting for an extended time for your new equipment to arrive.
To further speed up the delivery process we ship all our systems using insured next day delivery services, only the best is suitable for our customers!
Your Quality Guarantee
We are really confident that anybody looking for a multi monitor system, whether it just be an array, or a new computer and display bundle, will not be disappointed with any of our offerings.
As such we offer a full 30 day no questions asked money back guarantee, we will even pay the courier costs to bring the system back!
We also offer unlimited technical support when setting up your new system, and are available to provide in-depth knowledge of everything 'multi-screen' to make sure you are as happy as can be.
We truly believe that our products and services are unmatched in our sector and we know you will agree!