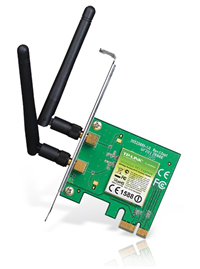 Adding a wireless network card to your new computer lets it detect and join wireless networks for network and Internet access.
About Network Connections
All of our computers feature an ethernet (LAN) port, these accept standard RJ45 network cables for Internet and network access.
The standard 300Mbps WiFi card option connects to pretty much any wireless network and offers solid performance.
To get the very best speed use the 867Mbps Wireless AC card, this newer and faster WiFi technology can improve speeds massively however it would need a Wireless AC rated router to achieve the highest possible speed. It is compatible with lower speed routers as well.
If you want to learn more about wireless network connections and speeds please see our blog post: Wireless Network Technologies (Opens in new page / tab)