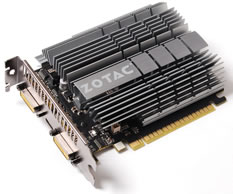 For a multi-screen PC the graphics card setup directly affects the type and number of monitors you can connect to the computer, each monitor needs its own monitor output.
Standard Resolution Screens
To support standard FHD (1920 x 1080) resolution screens we use a GT 1030 graphics card with supporting GT 710 cards for setups up to 6 monitors. These cards are more than powerful enough to support any desktop / trading software requirements and are completely silent in operation due to not requiring any cooling fans. You get a DVI-D and a HDMI port on each card, we also supply adapters which essentially let you connect all DVI, all HDMI or any mix of monitors that you want. GT 710 cards also carry the an older VGA port on them.
For configurations of 8 screens or above we use nVidia Quadro P600 cards, these offer Mini-DisplayPort graphics outputs on them, four per card. To connect to standard HDMI or DVI monitors you will need a Mini-DisplayPort to DVI / HDMI adapter for each screen you want to connect. The P600 graphics cards do carry a cooling fan on them so at not completely silent but are very quiet when running.
Higher Resolution / 4K Screens
For customers wishing to run higher resolution screens, i.e. screens running greater than the standard 1920 x 1080 resolution then we have a couple of options for you to choose from.
Some of our computers are capable of being setup in a configuration to run just 1 4K screen, this is supported by a DisplayPort output on the motherboard and is powered by the inbuilt graphics engine on your CPU. Any screens can be run in full 60Hz mode which is optimal, and this is a silent graphics configuration.
If you wish to run more high resolution screens then we also have a setup using an nVidia Quadro P600 card, this has four Mini-DisplayPort outputs on it which allows connection of between 1 - 4 4K monitors and all will be capable of running at full 60Hz. These cards can also support lower resolutions so QHD (2560 x 1440) and standard resolution (1920 x 1080) screens can also be connected. The Quadro P600 does have a small cooling fan so this setup is not silent but is very quiet.
Upgrade Charges & Specific Output Information
Changing the graphics card option sometimes affects the rest of the PC build. Increasing the number of cards means that we upgrade the motherboard, power supply and case cooling to support them, the upgrade cost includes these additional changes.