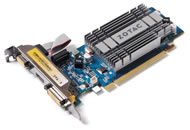 For a multi-screen PC the graphics card setup directly affects how many monitors you can connect to the computer, each monitor needs its own output.
GT 710 Cards
The Pro computers are capable of being configured to support up to and including 8 independent monitors. We do this by using a combination of dual monitor capable nVidia GeForce GT 710 graphics cards or swapping to 2 x AMD W4100 Cards.
Each GT 710 offers good performance and being passively cooled means silent operation. They have 1 VGA, 1 HDMI & 1 DVI-I port (supplied with free DVI-HDMI cable) and support up to 2 digital or 1 digital / 1 analogue screens.
AMD W4100 Cards
For higher numbers of monitor connections we use the AMD W4100 cards, these offer good performance levels and feature 4x Mini DisplayPort connections, supporting up to 4 screens per card. These cards are fan cooled so add to the noise output of the PC, but they are still pretty quiet cards overall.
Upgrade Charges & Specific Output Information
Changing the graphics card option affects the rest of the PC build. Increasing the number of cards means that we upgrade the motherboard, power supply and case cooling to support them, the upgrade charge includes these additional changes.
To view specific graphics output port information for each graphics option click on the 'View Monitor Ports & Resolutions For This Setup' link in the 'Monitors Supported' panel on the right side of the page behind.