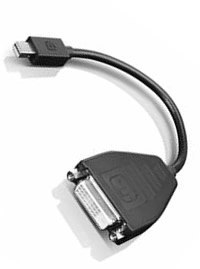 Graphics card adapters convert one type of graphics port into another to allow connection of a wider range of monitors to your computer.
About Graphics Ports
There are currently 7 different types of monitor connectors found on modern graphics cards and monitors, this high number leads to a lot of confusion about which graphics cards support which monitors.
Most monitors have DVI and / or HDMI ports on them, these are both digital connections which are the best type. Older screens can have VGA (analogue) connections on them however this is used less and less now a days.
Some graphics cards use the smaller MiniDisplayPort connectors, these are also digital connections however unless your monitor specifically has a DisplayPort input on it then you will need an Active adapter to connect these ports up to HDMI or DVI monitors.
Note: Only customers choosing graphics card options with the AMD W4100 or the W600 cards need to purchase the MiniDisplayPort to DVI / HDMI adapters.