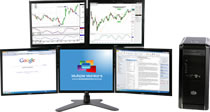 If you are looking for a complete multi-screen setup in one easy purchase then look no further.
Bundles come with everything you need to get instantly up and running including your choice of stand, screens and a new high performance multi-screen capable computer.
Free Gifts & Upgrades
All bundles come with 3m long digital video cables for each screen, these let you easily connect the screens to your new PC and give you plenty of length to cable tidy them around the back of the stand.
We also make certain that you get the right type of cables for your configuration, no need to worry about DVI or HDMI compatibility, we look after all this for you and provide exactly what you need.
As a bundle bonus your PC will also receive a free WiFi Card upgrade and a free set of desktop speakers, these gifts are worth £40 when purchased on a PC without a bundle.
Finally, you get FREE UK (mainland) delivery on all bundles saving another £20.
Money Saving Discounts
If the free cables (worth £15 a set!) and £40 of free upgrades isn't enough then we also automatically add a bundle discount of up to £100. Your discount amount depends on the number of screens selected:
2 or 3 Screen Bundle: £25 Discount
4 or 5 Screen Bundle: £50 Discount
6 or 8 Screen Bundle: £100 Discount
Bundles offer the best prices and most convenience of all our products, get started on configuring your perfect multi-screen bundle here: Bundle Configurator