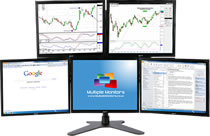 Arrays are a complete multi-screen display system featuring a multi-screen stand and your choice of monitors mounted together in a professional looking package.
Free Long Length Cables
All of our array display systems come with free 3m long digital video cables and power leads for each screen.
Long cables are essential if you want to be able to neatly hide all the cables behind your screens and still reach a computer comfortably. We have found that 3 meters is the optimal length for the vast majority of setups.
These free cables are worth £15 per set and you get a complete set for each screen of your array.
We also offer a reduced delivery fee of just £10 for the full array (UK mainland only).
Configure Your Perfect Array
To put together a preview your perfect array use our online tool here: Array Configurator